Message from Shidoshi Russell – 2020 Conference
Greetings Gospel Martial Arts Union-
Over the past two months, GMAU leadership has been praying fervently regarding the status of the 2020 national conference in light of the COVID-19 pandemic. In determining our decision to hold this year's conference, the leadership team considered the health and safety of attendees, reimagined what the format of the conference might be if held online, as well as considered the financial ramifications at stake for attendees and for hosting this year's event. As many of our martial arts schools have been impacted by this unprecedented time, the variables of health and safety, affordability, and feasibility are still in play. As we have learned throughout the past couple of months, established plans are only as good as the information at hand at that given time, which causes decisions to be volatile.
With much consideration and with the uncertainty of what to expect in early November 2020, GMAU HQ and the Board of Governors have determined to suspend the 2020 GMAU National Conference.
We are heavyhearted in sharing this news as it is the instructors and attendees from all over the country who practice martial arts in a variety of different ways who make the national conference so unique and special. Furthermore, for those of you who have attended previously, it is unfortunate that we will not be able to catch up with each other this fall.
The COVID-19 pandemic has caused us as martial arts instructors to reflect, adapt, and reimagine ways in which we teach and minister to our students and their families. As we are in the midst of this challenging time, self-defense/life protection is arguably more important than ever in providing guidance, support, and direction to our students who engage in an ever-increasing hostile world. Thank you for your faithfulness in serving the Lord Jesus Christ!
Even though the 2020 conference is suspended, GMAU HQ and the Board of Governors are steadfastly here for YOU. Our desire is to be a support and blessing by providing resources, credentialing, and certifications to you and your students.
With great anticipation, we will continue to prepare for the 2021 national conference and look forward to seeing you there.  If you have any questions, please feel free to contact us.  Blessings!
Shidoshi
WELCOME
Welcome to the Gospel Martial Arts Union, since 1986, a group of dedicated Christian brothers and sisters training and teaching the martial arts with a Biblical perspective.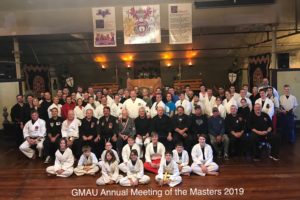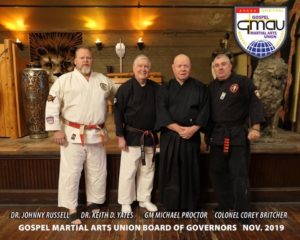 OUR MISSION IS TWO-FOLD:
1     We are dedicated to effectively and collaboratively promoting and teaching biblically principled martial arts/sciences, conflict resolution tactics, and life protection training. 
• Central Belief: Everyone can benefit from Biblical martial arts training, especially the household of faith.
• Central Motivation: Everyone should train in biblical martial arts with a qualified and credentialed instructor.
• Central Focus: Practical demonstration of great love by willingly lay down our lives for anyone in need.
2     We are committed to teach personal responsibility and accountability. GMAU ministry initiatives are distinguished from other activities, sports, etc. by emphasizing life skills and growth through: Spiritual Discipleship; Mental Discipline; and Physical Development. We journey together; unified and determined to Building Up the GMAU Family… Together pressing toward the mark for the prize of the high calling of God in Christ Jesus.
We invite you to examine our organization and—if you feel so led—to join us in fellowship as an affiliate member (it's free) or as a full member (just $20 annually) to receive all the included benefits.
CONTACT US VIA EMAIL
info@gmau.org