WELCOME
Welcome to the Gospel Martial Arts Union, since 1986, a group of dedicated Christian brothers and sisters training and teaching the martial arts with a Biblical perspective.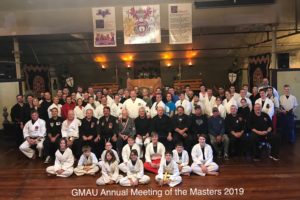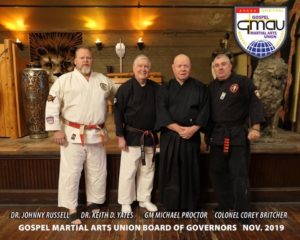 OUR MISSION IS TWO-FOLD:
1     We are dedicated to effectively and collaboratively promoting and teaching biblically principled martial arts/sciences, conflict resolution tactics, and life protection training. 
• Central Belief: Everyone can benefit from Biblical martial arts training, especially the household of faith.
• Central Motivation: Everyone should train in biblical martial arts with a qualified and credentialed instructor.
• Central Focus: Practical demonstration of great love by willingly lay down our lives for anyone in need.
2     We are committed to teach personal responsibility and accountability. GMAU ministry initiatives are distinguished from other activities, sports, etc. by emphasizing life skills and growth through: Spiritual Discipleship; Mental Discipline; and Physical Development. We journey together; unified and determined to Building Up the GMAU Family… Together pressing toward the mark for the prize of the high calling of God in Christ Jesus.
We invite you to examine our organization and—if you feel so led—to join us in fellowship as an affiliate member (it's free) or as a full member (just $20 annually) to receive all the included benefits.
CONTACT US VIA EMAIL
info@gmau.org